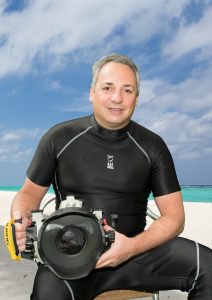 Danny Kessler of Leviathan Capital is an underwater adventure photographer specialising in marine megafauna. Exploring the world's seas and oceans, Danny's work is recognised for its intimate style but also for the unique experiences he captures. Danny aims to raise awareness to promote protection of the endangered species he is privileged to encounter.
Along with Doug Perrine, Danny has collaborated with Tethys as their "official photographer" and was recently published in BBC Wildlife as part of an article on fin whales and Tethys. They continue to work closely with Tethys to promote it's invaluable activities through publications globally.
Danny has exhibited and published widely and globally. His Megafauna exhibition has been shown at Whalefest, UK dive shows in Birmingham and London as well as at SEA LIFE London Aquarium. He has also been a finalist for the Wildlife Photographer of the Year for the last 3 years (2013/2014/2015). He has most recently been published in DIVER, BBC Wildlife, Diver Alert and Mark Harris' acclaimed book Glass and Water.
When not underwater, Danny is the father of three young children and is married to Amanda, who helps support the trips that makes these images possible. He runs Leviathan Capital Ltd and is also Group CEO of the Met Group and, since 2002, has grown it into a diverse organisation including asset management, market making, proprietary trading, regulatory hosting, venture capital, private equity and property development. Danny is a passionate entrepreneur and actively invests on a personal basis in a variety of technology ventures from early growth stages to listing on public markets.
Follow Danny for his latest images, news and updates.



---